FutureTools and Its Best Alternatives
by Freework.AI     Updated Nov 2, 2023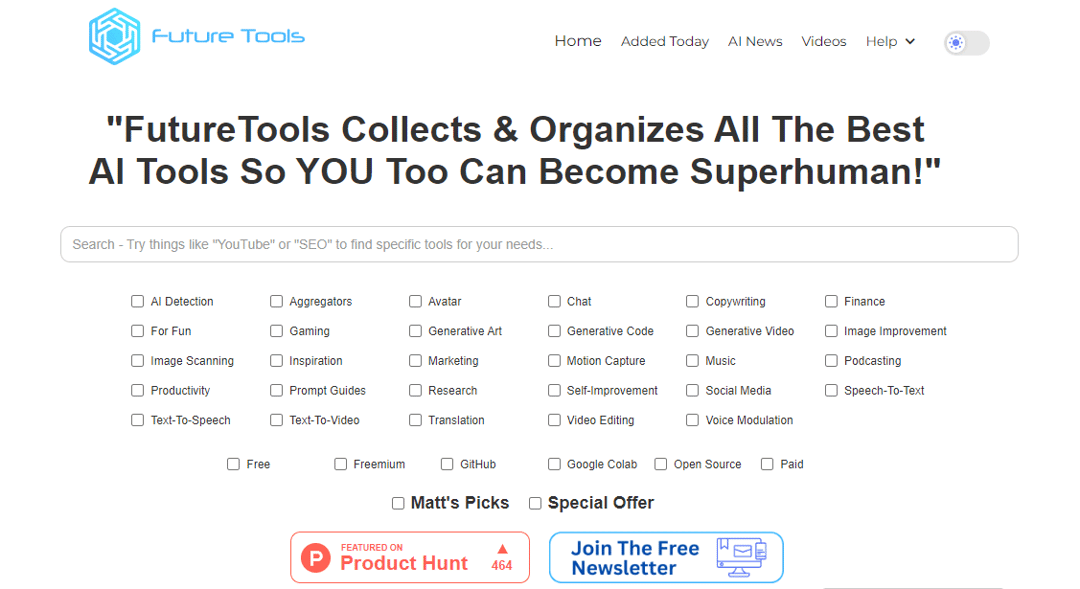 In today's fast-paced digital world, AI tools have become the necessary tools that enhance productivity. But here's the catch: the sheer abundance of these tools can make your quest for the right one feel like searching for a needle in a digital haystack.
That's where AI tool directories come into play - they offer you a compass that directs you to the AI tool you want. These directories act as trusty guides that help you navigate the world of AI tools with ease.
In this article, we will dive deep into FutureTools and its best alternatives to help you discover various AI tool directories to streamline your AI tools search.
Let's get started!
Understanding Futuretools
In the world of AI and technology, 'futuretools' refer to a special breed of cutting-edge tools that are redefining the way we work, live, and interact with the digital world. These tools are not just about automating tasks; they are about reshaping industries and the way we perceive the possibilities of technology.
Futuretools encompasses a wide spectrum of AI-driven applications. From advanced natural language processing models like GPT-4 to quantum computing, and the evolving blockchain technology, they are the pioneers of innovation. They have the power to decipher complex data, predict future trends, and enhance human-computer interaction.
In various sectors, these tools are nothing short of revolutionary. They are transforming healthcare with gene-editing techniques, optimizing supply chains with blockchain, and making strides in communication.
Top AI Tool Directories
Futurepedia.io
Futurepedia.io, a leading AI tool directory, connects millions of users globally. As the largest AI tools directory, Futurepedia.io is your go-to source for discovering top AI tools. You can submit your AI tool to Futurepedia.io to reach potential users and boost your business.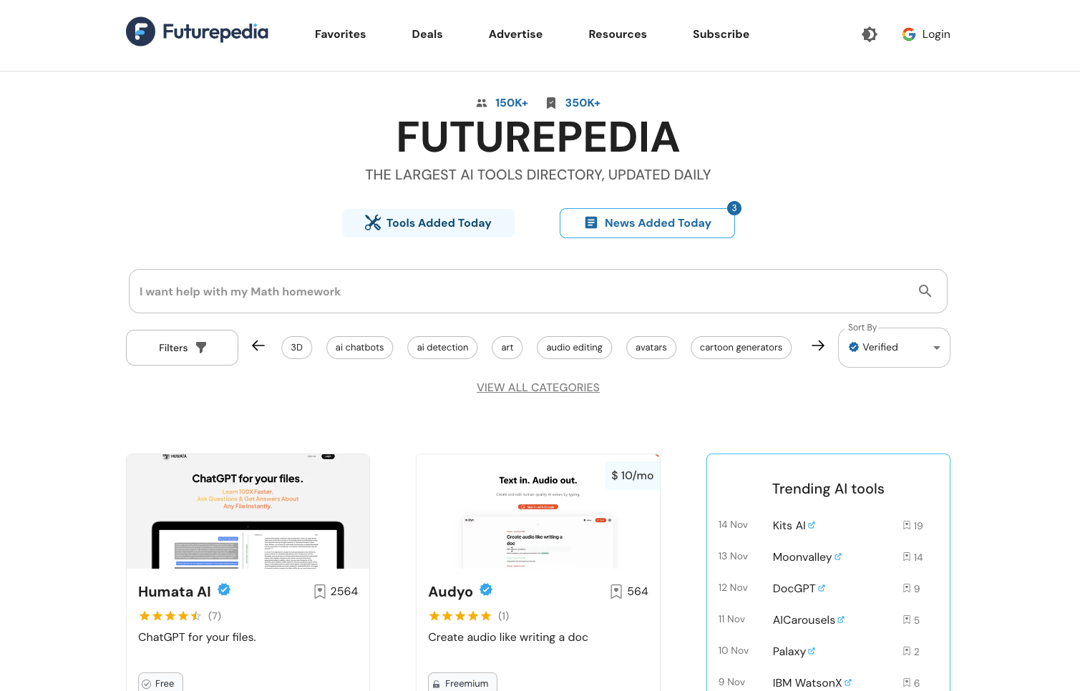 Features
Vast collection of AI tools: Futurepedia.io has an extensive collection of AI tools that span various domains and industries. Whether you are in need of natural language processing solutions, data analytics tools, or revolutionary AI-driven applications, Futurepedia.io has them all.
Ability to save and share favorites: What sets Futurepedia.io apart is its user-friendly interface. You can not only explore the vast range of tools but also save your favorites for future reference or use.
Weekly updates: Futurepedia.io updates its AI tools library weekly. These weekly updates help to ensure that you always get the latest AI tools and innovations.
How to submit an AI tool to Futurepedia.io
Note Futurepedia.io exclusively features AI tools and maintains a strict 'Not Safe for Work (NSFW)' tool policy, which means they don't accept tools that fall under the NSFW category. They also decline AI newsletters or directory submissions. Simply submit your tool with its URL during checkout and leave the rest to them.
AiSuperSmart.com
AiSuperSmart.com is a rapidly growing AI tool directory. It's your one-stop destination for all things artificial intelligence tools.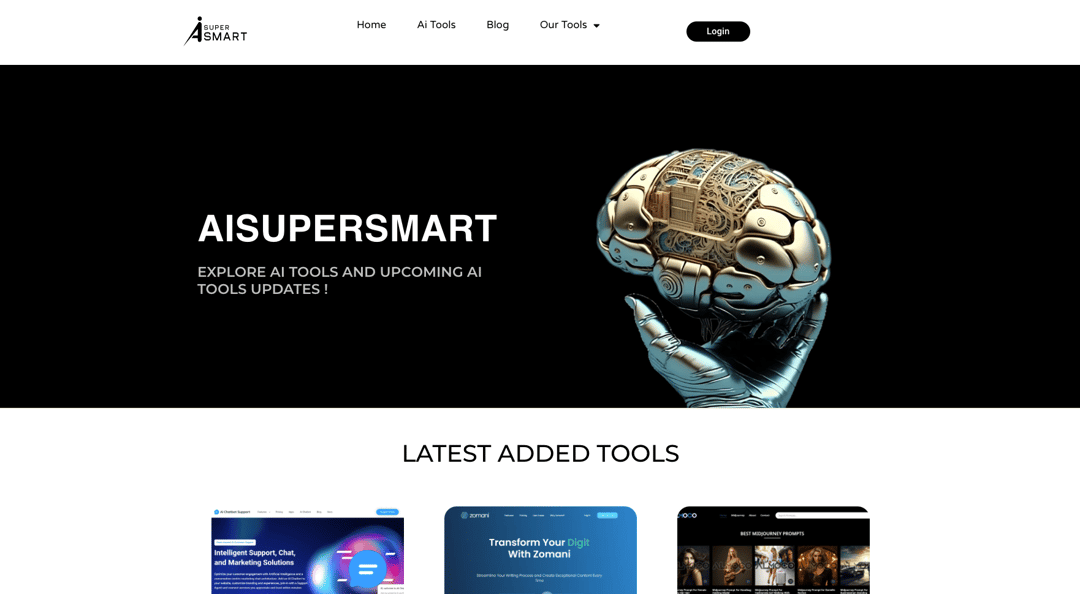 Features
Comprehensive Information: AiSuperSmart.com provides comprehensive information on the wide range of AI tools it has. You will find in-depth insights in the directory to help you make informed decisions.
Free tools: What sets AiSuperSmart.com apart is its collection of free AI tools. You can explore and utilize these tools without spending a dime.
User-friendly interface: Navigating AiSuperSmart.com is a breeze, thanks to its user-friendly interface. You can easily search, save, and compare AI tools with it.
How to submit an AI tool to AiSuperSmart.com
FutureTools.io
FutureTools.io is a platform founded by a prominent AI creator and serial entrepreneur, Matt Wolfe. It is also another AI tools directory where you can get numerous AI tools.
Features
Daily updates: FutureTools.io prides itself on providing daily updates on the latest AI tools. You will always get the latest AI tools on FutureTools.io as soon as they are released for use.
User-friendly platform: Navigating FutureTools.io is smooth. With its user-friendly interface, you can effortlessly explore, save, and compare AI tools.
Active community: FutureTools.io has a thriving community of AI enthusiasts and professionals. You can share your insights, discover new tools, and engage with like-minded individuals who are passionate about AI in the community.
How to submit an AI tool to FutureTools.io
Alternatives to FutureTools
While FutureTools offers cutting-edge solutions, it's essential to consider options that align best with your unique needs. These alternatives can encompass traditional AI tools, open-source software, or established solutions, each with its own advantages.
Some alternatives are more established, with a proven track record of reliability and user-friendliness.
Best Alternatives to FutureTools
Find My AI Tool
Find My AI Tool is a platform that puts the spotlight on cutting-edge AI tools. Here, you have the chance to share and promote your AI tool to reach out to a wider audience.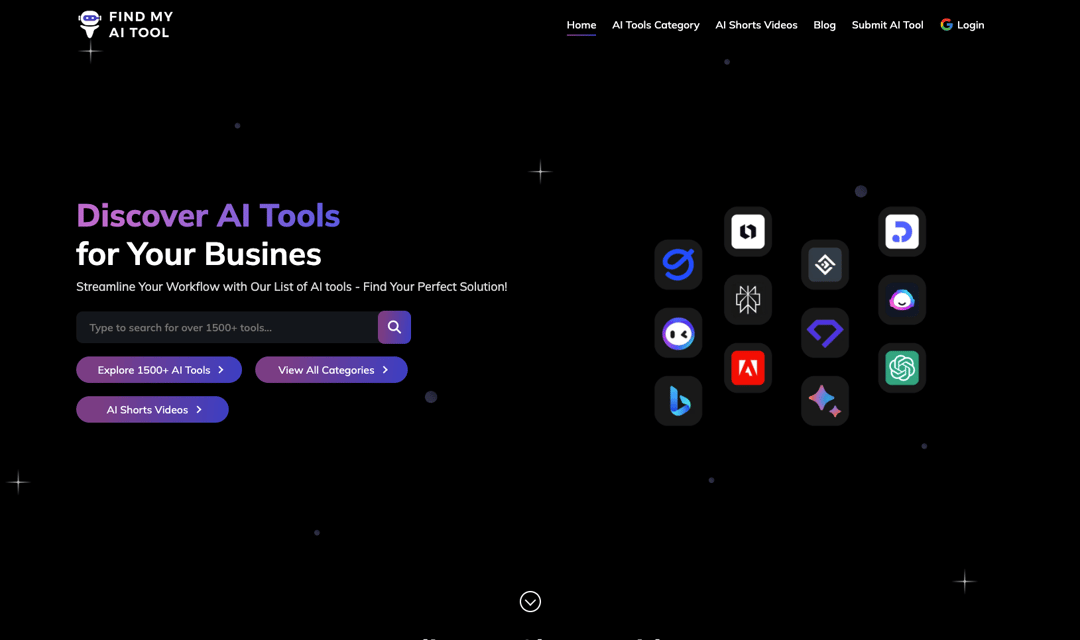 Plans available on Find My AI Tool
Basic Plan
Standard Plan
Featured Plan
How to submit an AI tool to Find My AI Tool
Submitting your AI tool on Find My AI Tool is hassle-free. Visit https://findmyaitool.com/submit-tool/, sign in with your Google account, choose a plan, make payment, and check your email for the submission link. Click on the link, enter your tool's URL, and provide the required basic information.
Toptools.ai
Toptools.ai allows creators to develop and monetize AI-driven software effortlessly, all without coding.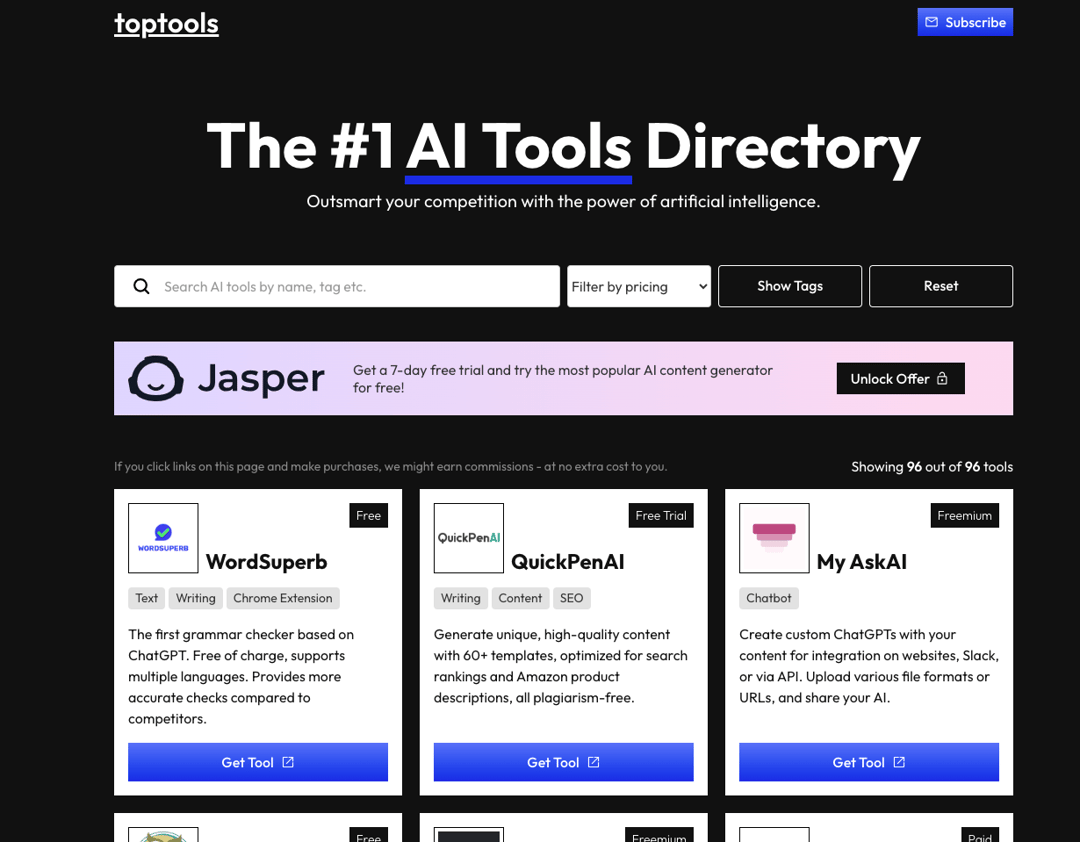 How to submit an AI tool to Toptools.ai
Submitting your AI tool to Toptools.ai is straightforward. Complete the submission form on toptool.ai by providing key details about your AI tool such as its name, URL, category, description, tags, pricing, and logo.
How to Choose the Right AI Tool
Choosing the right AI tool is vital for achieving your goals. Start by assessing the tool's features. Does it offer what you need?
Evaluate the user interface - it should be user-friendly and intuitive. Consider the strength of the community support; a vibrant community ensures help is at hand. Frequent updates are also essential to keep the tool up to date.
Conclusion
This article has discussed everything you need to know about FutureTools and the significance of AI tool directories in simplifying the process of finding the perfect AI tools for your specific needs.
You have the power to streamline your workflow, boost efficiency, and unlock new dimensions of creativity by leveraging these directories and exploring the wide range of AI tools they contain.