Theresanaiforthat review and Its Best Alternatives
by Freework.AI     Updated Nov 13, 2023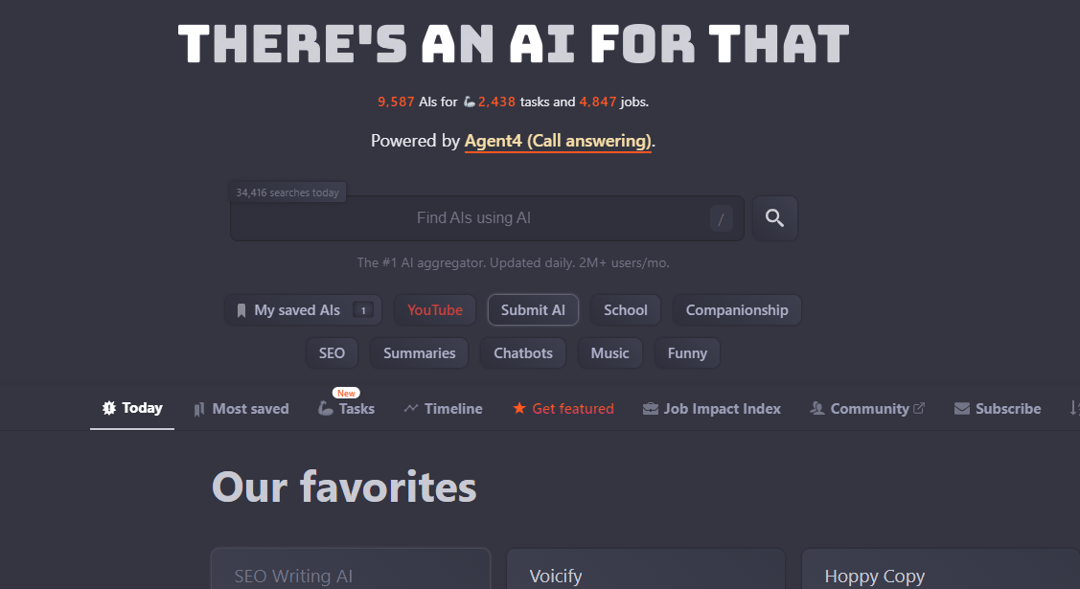 In today's fast-paced world, the advancements and technology in AI (artificial intelligence) have transformed the way we work, live, and interact with state-of-the-art technologies. With a huge number of AI solutions available today, it can be hard to keep track of the new advancements.
Fortunately, Theresanaiforthat (There's an Ai for that) is a complete Ai tracker made to simplify this procedure. In this comprehensive review, we will dive into the incredible features and advantages of the Theresanaiforthat; and also explore the best alternatives of Theresanaiforthat.
Theresanaiforthat Overview
There is an AI for that is a user-friendly AI tracker that aims to offer a centralized platform for individuals to keep updated with state-of-the-art advancements in Artificial Intelligence.
With more than 700+ AIs spanning nearly a hundred categories; Theresanaiforthat provides a wealth of info and deep insights.
Regularly updated, it makes sure users have complete access to the most recent developments in the AI landscapes.
Comprehensive AI Tracking
Theresanaiforthat positions itself as the ultimate solution for AI fans and experts alike. It spans a huge array of AI apps and categories, ranging from fiancé and healthcare to advanced robotics and several natural language processing. This inclusively permits users to explore various AIs relevant to their specific industries and interests.
Whether one delves into healthcare intricacies Artificial intelligence or exploring new things in robotic advancements, the Theresanaiforthat serves as a central repository for the multifaceted world of AI.
Regular Updates
Navigating the quickly evolving landscapes of AI requires staying informed about new releases, advancements, and breakthroughs. Theresanaiforthat addresses all these challenges by providing regular updates.
Individuals can rely on the There is an Ai as a real-time platform source of info, cutting the need to scour multiple channels for updated news. This ability is great in an industry where advancement is constant.
By offering steady streams of info, the Theresanaiforthat empowered individuals to keep abreast of the dynamic AI landscape. The ease of bookmarking makes sure for smooth and simple access, letting users easily integrate it into their regular tasks for a reliable and quick AI news fix. Whether it is an advanced algorithm, a novel app, or an important search finding, users trust Theresanaiforthat to keep them in the right way.
Curation and Filtering
Navigating a huge repository of hundreds of artificial intelligence platforms can be a difficult job, but Theresanaiforthat mitigates this difficulty via its incredibly thoughtful Curation & filtering abilities. Recognizing the diversity of individual interests and the excellent nature of artificial intelligence development empowers users to tailor their experience.
Individuals can customize their AI tracking procedure by choosing a specific category of interest. It makes sure that they receive info most relevant to their preferences and expert needs.
Further, Theresanaiforthat facilitates streamlined info consumption by allowing users to filter outcomes based on relevance and popularity. This approach transforms the vast abundance of AI data into a customized and manageable stream, improving the overall user experience.
Book Marking
In the dynamic globe of AI exploration, where incredible discoveries are made daily, Theresanaiforthat introduces a practical solution for all users - The bookmarking ability. Recognizing the meaning of ease of access to frequently visited AI or interesting funds. It allows users to bookmark and set their favorite discoveries.
This ability is more than an easy convenience – it is a tool for efficient and effective knowledge management. Users can save important and major AIs, making a personalized archive for your future reference.
Whether it is a groundbreaking algorithm, an innovative app, or an AI relevant to ongoing tasks, the bookmarking ability makes sure that users can easily revisit and build upon their artificial intelligence discoveries.
By combining Curation, filtering & bookmarking, Theresanaiforthat improves the user experience, changing artificial intelligence exploration into a tailored, organized, and user-friendly expedition.
Best Alternative to Theresanaiforthat
When it comes to finding the right solution to Theresanaiforthat, it is vital to consider several factors such as usability, functionality, and overall performance. While Theresanaiforthat has gained huge popularity for its wonderful feature to provide AI-powered solutions, there are hundreds of other alternatives on the internet that provide the same or even better features.
Let's dive into some of the best alternatives of Theresanaiforthat in more detail.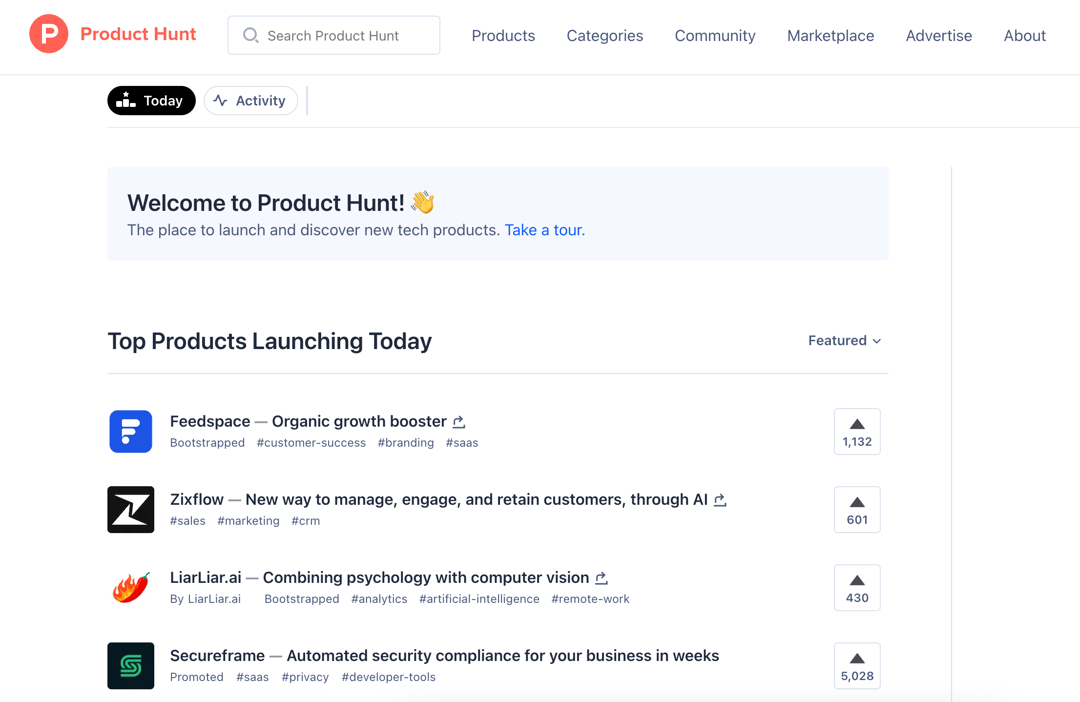 Product hunt is a popular website that serves as a directory for discovering and showing new products, including various AI tools. With wide range of AI tools, Product Hunt platform has become a go-to resource for businesses and individuals looking for innovative solutions to their technological needs.
One of the best features of the platform is its ability to provide wide collection of AI tools that cater different use cases. Whether you are searching for tools related to computer version, natural language processing, data analytics and machine learning, product hunt website has you covered.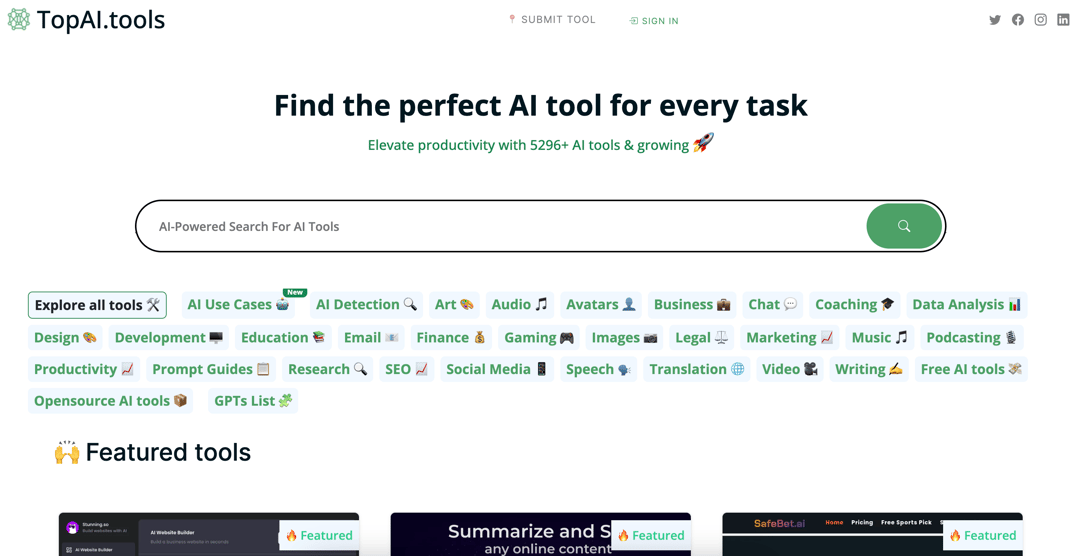 One more website in the AI tool directly is Top AI Tools. Just like its name, it provides a huge collection of AI tools that span a huge range of jobs. From natural language processing to image recognition to predictive chat-bots and analytics, this website curates a wide selection of tools that cater to several applications and industries.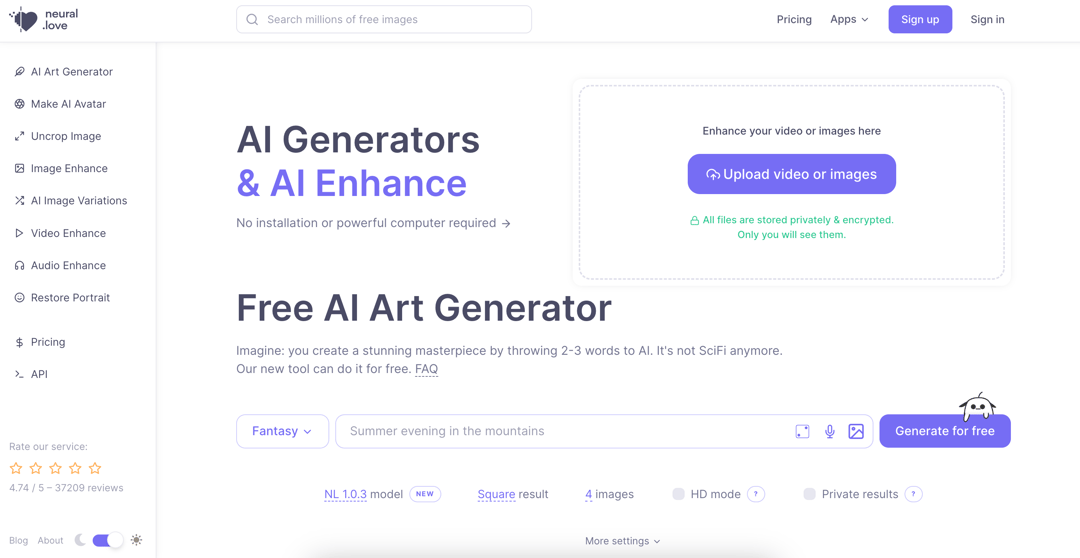 It is an Ai powered aggregator that stands out for its concentrate on curating a list of AI powered tools and resources specifically designed to the needs of business and individuals.
With its directory, Neural Love makes sure that users can simply find the most relevant and high-quality AI powered tools available. This approach saves time as well as effort, streamlining the procedure of finding the correct Ai tools for your specific needs.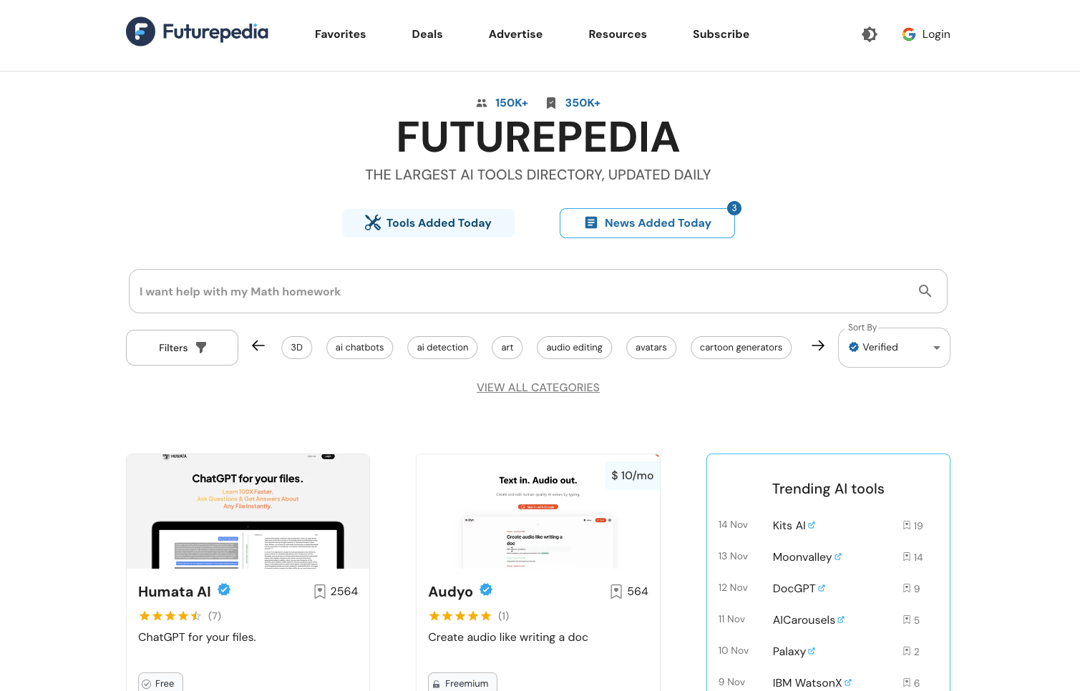 One of the best alternatives to There is an Ai for that website that provides a huge directly of Ai tools. What distinguishes Futurepedia.io is the wide collection of tools as well as resources it provides for various apps.
Whether you are looking for AI tools to improve customer service, automate procedure or optimize decision making, it provides a wide collection to pick from. The intuitive of platform is search functionality and organized categories that make it simple for users to navigate and find Ai powered tools that rightly suit their requirements.
When it comes to finding the best alternative to There is an Ai for That, there are several websites to explore, Product Hunt with its wide selection of tools and vibrant community, provides rich resource for showing and discovering new AI powered tools. Neural Love, Top AI Tools and Futurepedia.io ach bring their individual approach to organizing and curating AI tools, offering users with a wide range of options for their specific needs.
Advantages of Theresanaiforthat
Theresanaiforthat emerges as a stalwart in the world of trackers blending whole coverage with ultimate user-friendly features. In this section, we wll dive into the major advantages that set "There's an Ai for that apart".
Stay Informed and Explore
The Theresanaiforthat operates as a gateway for users to keep abreast of the new AI advances. In the ever-evolving future of AI, staying informed is paramount. Theresanaiforthat not only offers a complete overview of Artificial intelligence but also acts as a catalyst for exploration.
Whether users are keen on searching for new techs or staying updated on specific categories, Theresanaiforthat facilitates a smooth journey of discovery. This advantage positions the tool as not only an info source but as an active enabler for individuals to delve deeper into the huge world of AI.
Efficient Knowledge Management
This inclusion of bookmarking ability elevates the utility of Theresanaiforthat by contributing significantly to effective knowledge management. Individuals can bookmark, Ai's of interest, making a Curated collection tailored to their specific needs.
This feature is a game-changer for all dealing with info overload. The feature to save and organize favorite AI programs not only streamlines the user experience but also fosters a sense of customized Curation.
This effective knowledge management makes sure that users can revisit and make upon their discoveries, making a personalized archive of major AIs. It changes the platform from a passive info source to an active tool for users to shape their understanding & engagement with the latest AI advancements.
User Accessibility
The user-friendly design of Theresanaiforthat is a testament to its wonderful commitment to inclusivity. In an industry often characterized by various complexities, the Theresanaiforthat ensures accessibility for a diverse audience.
Whether a seasoned AI expert or a beginner enthusiast, individuals can navigate the tool with super ease. The intuitive design improves the overall user experience, making it an ideal platform and a welcoming tool for persons at various stages of their AI journey. This inclusivity contributes to the democratization of Artificial Intelligence of knowledge, breaking down difficulties and fostering a community of practitioners and learners.
Wrap up…
Theresanaiforthat is a useful AI tracker that simplifies the whole procedure of staying updated with new advancements in the industry with its ultimate coverage, user-friendly interface, daily updates, and bookmarking ability, it gives a seamless experience for AI experts and enthusiasts alike.
The advantages of the platform including user accessibility, efficient knowledge management, and curated exploration make out an incredible tool for all. While alternatives provide decent features, Theresanaiforthat stands out for its smooth integration of info and user-friendly design, making it a go-to source in the world of AI.